Here's How to Make Your Office WELL Certified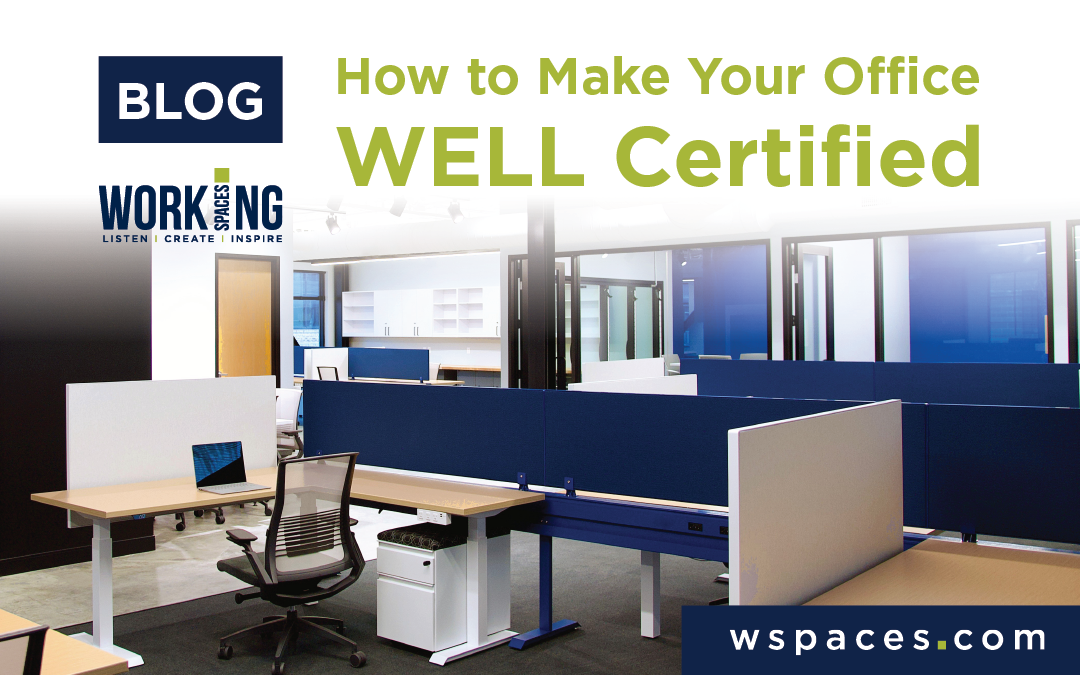 It's said that every difficulty is an opportunity for growth. The challenges of the last couple years have revealed countless opportunities to enhance the trajectory of modern business development. Ultimately a people-first, wellness-centered approach in everything from building design to team management is necessary for success. This paradigm shift has been years in the making, helmed by institutions like The WELL Building Standard®, which helps organizations around the world invest in their most valuable assets, their people. What does it mean to be WELL certified, and how can Working Spaces help create the social and physical environments that will best shape productivity and performance?
The Meaning of Modern WELLness
Employees today are empowered by the movement toward improved work-life balance, and recent remote work only bolstered appreciation of a supportive work environment. In this era, progressive organizations are eager to implement best practices that bridge employee wellness and corporate performance, and at this nexus is WELL. The WELL Building Standard® is a performance-based system that measures, monitors, and certifies features of the built environment that impact human health and well-being. Guided by emerging scientific evidence, WELL sets the standard for health leadership, helping organizations around the world implement strategies to meet their goals of putting people first and gauge measurable returns in real time.
WELL Certification
Organizations in over 100 countries around the world, including over 20% of Fortune 500 companies, are committed to establishing strategies and culture that support employee well-being across WELL's 10 evidence-based categories. Consideration and incorporation of concepts including water, air, light, thermal comfort, nourishment, sound, materials, mind, community, and movement are benchmarks of the high standards expected of companies today. Those that surpass the vigorous verification process for WELL certification certainly exceed projections of enhanced ESG performance and in annual CSR reporting. How can Working Spaces help you put people first?
The WELL Office Building
Perhaps most integral to the WELL Building Standard® are the design elements of the built environment, which influence and support employees and create the foundation for exceptional productivity and performance. Designing spaces that meet and exceed these requirements is no easy feat, and Working Spaces' NCIDQ certified designers bring over 20 years of experience and committed collaboration to the task. Our teams can help build WELL office buildings that implement these features and more:
Modular interior solutions like maars Living Walls include glass partitions that allow for the flow of natural light throughout the space, and acoustic panels to enhance the auditory experience.
Accessible, ergonomic furnishings support and include diverse employee populations, and modular options like variable height desks encourage healthy, mind-stimulating movement.
Selections of low-emission materials and inclusion of ample plant life maintain optimized air quality and harness the benefits of biophilic design concepts.
Strategic selections like natural, ambient, and circadian lighting support employees' mental, visual, and overall health, wellness, and performance.
Considerately designed social spaces encourage the sense of community necessary for collaboration and the establishment and development an inclusive culture, while freestanding pods like those from muraflex support productivity when work requires privacy or space for concentration.
Become a WELLness Leader with Working Spaces
Seamless incorporation of a variety of social, commercial, and environmental elements requires inspired artistry, technical acumen, and a thoughtful dedication to weaving in the essentials of your own vision, mission, and culture. Working Spaces understands that the future of success in business depends on integrated alignment with well-being initiatives, and there's no more perfect partner to help navigate this challenging and rewarding process. Call today to get started on your next important project!