A Reflection on the Top Office Design Trends of 2022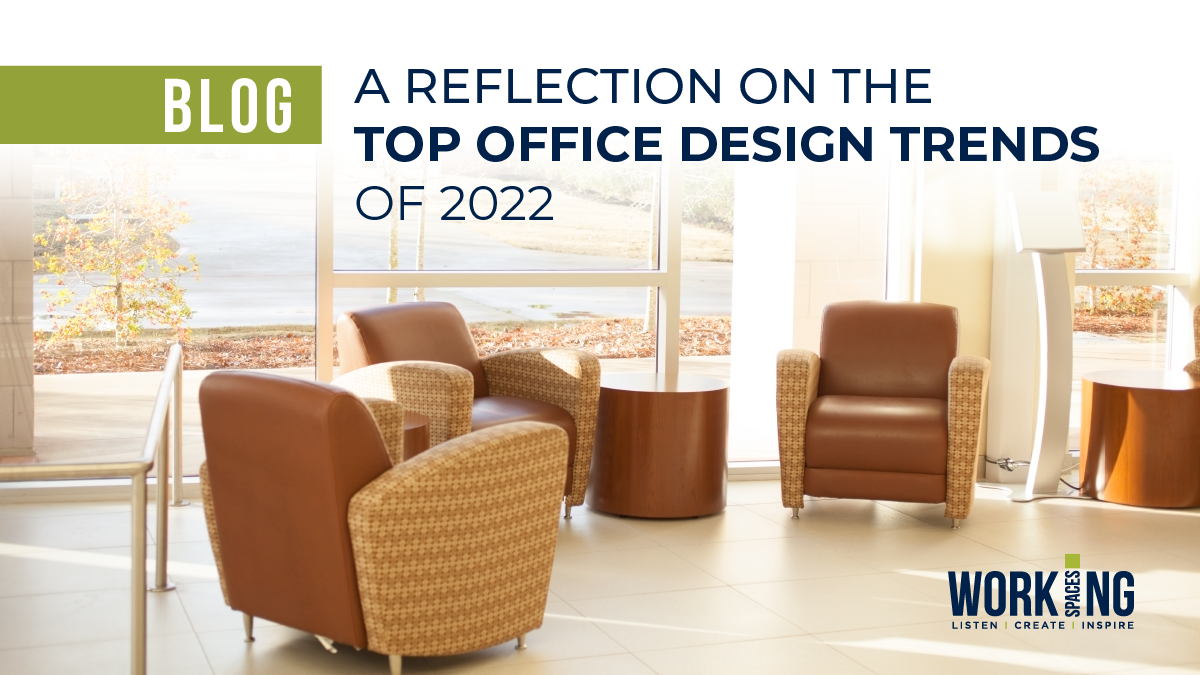 As the grip of the pandemic slowly fades, the lessons we learned continue to play a major role in the trends of interior office design. We now face a constant balance between building a burgeoning business and supporting staff wellness. That means creating environments where employees feel safe to collaborate and yet inspired to do their best work; environments that inspire quality employees to come back to the office and stay because it somehow feels better than working at home. Which of these office design trends are here to stay, only time will tell. But the Working Spaces team is here to guide you every step of the way.
Resi-mercial is Real
With isolating lockdowns ever-further behind us, businesses are steadily rebuilding their in-house workforces for the benefits of improved focus, collaboration, and company culture. However, supporting staff with the comforts of home is more important for wellness and retention than ever before. 2018 saw a steady shift toward softer, organic lines, warmth through color, lighting, natural textures, and plant life, and more comfortable furnishings. But 2022 solidified this blend of residential and commercial design in transitioning remote workers back to the office and in maintaining a happy and healthy work environment. Employees that feel as safe and nurtured as they are at home are more relaxed, engaged, and creative in the office.
Dependable Dynamism
If the Oxford dictionary needed a single concept to define 'dynamism,' the efforts of the last 2 years would be it. At no other time in modern history has the world experienced the constant change, activity, or progress associated with the word. But have no doubt, the businesses that succeed and endure will be those with the office design flexibility to embrace uncertainty and the shifts necessary to continue moving forward. Popular open concept designs that best foster collaboration are being reimagined to incorporate architectural features like work "pods," which offer employees private spaces for research, online meetings, phone calls, and more. With modular elements like maars Living Walls and Muraflex, Working Spaces can help define adaptable solutions to the evolving needs of your business.
Storied Design
If you've ever visited a brand-new model home, you've likely experienced the crisp newness of a blank slate, but had the distinct feeling that it was missing a sense of…something. That essential element is character, and in business, that translates as your brand's story. Impactful interior design isn't just about choosing complementary colors and ergonomic furnishings, it's about using office design elements as a foundation for healthy corporate culture, as a backdrop for your organization's history and trajectory, and as the identifying concepts that makes you memorable to clients. Working Spaces will take the time to get to know your business, and then work with you to seamlessly integrate proven strategies with trending concepts for the best possible experience and outcome.
Gracefully Green
Business today isn't just about the bottom line; employees and customers alike value concepts like sustainability and the incorporation of biophilic elements that demonstrate responsible awareness of and connection with the natural world around us. Besides utilizing sustainable building practices and materials, businesses can implement a range of uplifting "green" trends. This includes design options like increased flow of natural lighting, glass partitions, installation of "living" plant walls to improve air quality and revitalizing oxygen flow. There are also ways stimulate sensory elements like water sounds, textural applications for cladding, and natural materials for furnishings to foster a supportive connection with the outdoors.
Working Spaces Works for You
In changing times, the importance of impactful, elegant commercial design can't be overstated, and the Working Spaces teams combine years of dedication and cutting-edge industry insight to provide the most phenomenal customer experience and stunning, undeniable results. No matter the scale of your project, we're ready to redefine your space and support your shift to a more successful future. Contact us today with your ideas to get started!