Working Spaces 2022 Projects Unwrapped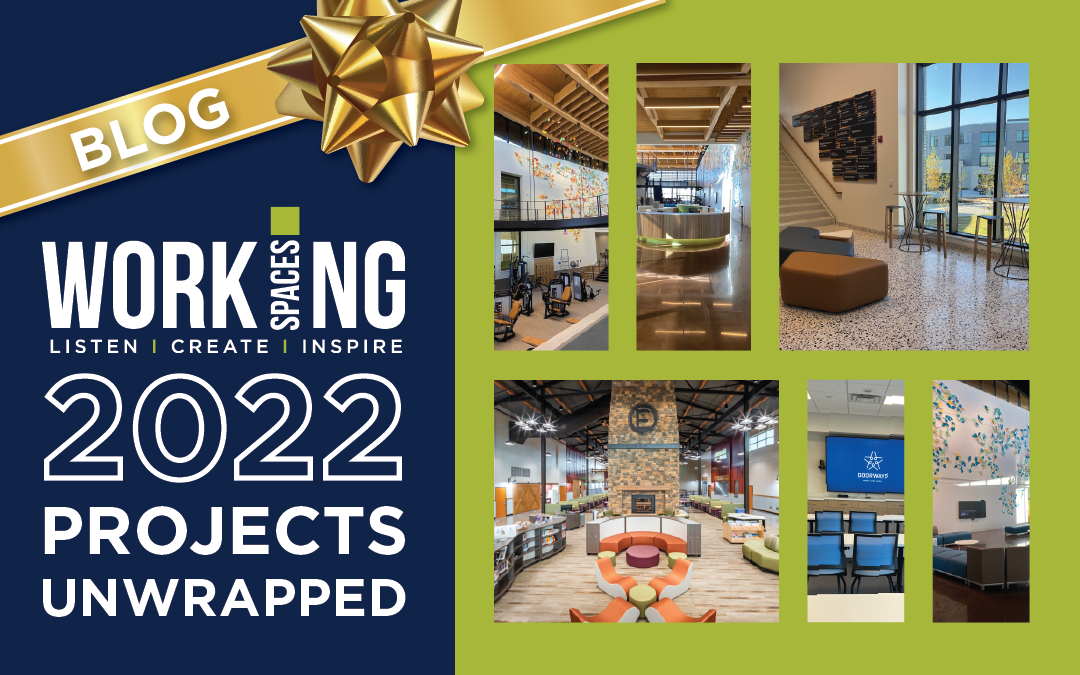 At Working Spaces, we have many incredible opportunities to meet amazing clients and to collaborate on truly creative transformations. From upgrading furnishings to best serve employees and workforce flow, to completing revolutionary rebrands and exciting new builds, we've been instrumental in building businesses, supporting culture cultivation, and reimagining functional operation. With decades of design experience and dedication to providing an exceptional customer service experience, it comes as no surprise that in the commercial industry, Working Spaces is the name in office interior design. Following is a selection of our favorite projects of 2022!
The St. Louis Team
The Working Spaces St. Louis team had the honor and privilege of partnering with a truly transformative organization for a project that culminated in a grand re-opening in October of this year. Doorways of St. Louis was founded in 1988 as a hospice to serve people with HIV that were dying and alone. Since, it has evolved to offer six platforms of housing and essential community services, eventually outgrowing its original homesite. As always, Working Spaces approached this concept as a team endeavor, and was selected to design a new campus to not only include two floors of administrative space, but an additional three floors of 1- and 2-bedroom housing with onsite support services for clients. The outcome couldn't have been more amazing for everyone involved.
From beginning to end, the most exciting and rewarding aspects of this project involved the cohesive partnerships and lasting relationships that were formed. Meetings with each and every staff member allowed us to get to know their needs, and helped us ensure the Kimball International and SitOnIt furnishings and workstations offered complete support for their important contributions. Working closely with the clients on design details for every finish allowed us to create elevated and uplifting spaces that are inspiring yet durable. Understanding residents' needs helped designers build homes with Uloft furnishings and spaces integrative to their healing journeys, including a lobby and café, kids' room, outdoor seating spaces, and a non-denominational prayer and healing room. This project is a true testament to the Working Spaces difference; by putting a world-class client experience first, we are able to empower their important missions in the world.
The Denver Team
The Working Spaces team in Denver also found excitement and purpose in some very important projects supportive of their local communities in 2022. The Mapleton School District secured our team to develop designs for a brand-new school, which is the first of its kind built by the district. This project-based learning school needed to include spaces and furnishings that accommodated this unique style of learning by including a high level of flexibility and many multi-functional areas. This was such an exciting and challenging endeavor for our team because this project-based education approach is unique and specifically tailored to a growing and diverse community, so the interior designs needed to be reflective of this forward-thinking learning style. Beautiful and functional furnishings by Kimball International, Smith System, and Norvel Nivel elevated the spaces while maintaining durable and inspiring finishes.
Another exciting and memorable project for our Denver Working Spaces team was the Southeast Recreation Center in Aurora. SERC is a 62,000 square foot recreation center designed to incorporate the input of nearly 2,700 community respondents of a gathering process in 2019. This feedback helped to shaped the look and feel of both the interior and exterior design of the center, as well as the included amenities and communal spaces. This project was a fun and expansive exercise for our team, and included furnishings from favorite lines including Kimball International, SitOnIt, Smith Systems, Janus Et Cie, National, Six Inch, Versteel and HAT used in a variety of spaces from the lobby, offices, and multi-purpose rooms to pool party rooms, Child Watch, and Natatorium spaces.
The Nashville Team
Southern hospitality and geniality could find no better representatives than the new Nashville Working Spaces team, and they are proud to wrap up a stellar first year of providing top-of-class working environments for a number of different clients:
Connect RN is an exciting project in the Healthcare Industry that presented the challenge of determining a design intention that would complement the company culture and provide office product solutions that accommodate their current and future office space needs. The first phases of this project are installed and we're excited to see it completed by year's end.
The F&M Arena in Clarksville is another unique and inspiring commercial industry venture for the Working Spaces team, as this brand-new arena will be used by a variety of different organizations. This project presented the challenge of accommodating the needs and desires of the Nashville Predators, the City of Clarksville, and the Athletics Department at Austin Peay State University, and multiple meetings with the clients allowed us to create a unified design with product solutions that are exciting and inspiring for each party. Installation begins in February of 2023!
Middle Tennessee Christian School in Murfreesboro is a new K-12 school renovation project that allowed our team to share our knowledge of pedagogy with MCTS, and help provide a "Classroom of the Future" solution that will meet their needs both today and tomorrow. In addition to working with board members of the school, our Working Spaces team collaborated with a local architecture firm to meet design needs within budgetary restrictions. Installation for this project is set to begin in the summer of 2023.
The Columbia Team
Working Spaces' Columbia, MO team was secured to design the University of Missouri's NextGen building, which is the single largest research investment on the entire campus. Spanning four stories and 265,000 square feet, the project goal was to create a space that could support accelerated innovations in precision health, while transforming care through cross-disciplinary collaborations of world-class researchers in partnership with industry leaders and government agencies. The innovative and integrative design plans included comfortable seating spaces that promoted relaxation and collaboration, learning environments with workstations, huddle spaces, conference rooms, and touch down areas.
Another amazing project brought to fruition in 2022 was the new Missouri Public Utility Alliance Office and Training Center. Not only did our team collaborate to ensure technological integration and inspiring design for administrative functions, staff meetings, quarterly board meetings, and classroom spaces, they also created an inviting breakroom and a high-bay open area for lineman and other utility training. This new headquarters is housed overlooking a beautiful wooded area, and it was a delight to incorporate design elements of nature into the building through furnishing, fabric, and finish selections to develop a serene atmosphere.
Look to a Fantastic Future with Working Spaces
With another busy year in the rearview, it's time to look ahead toward the inspiring possibilities that await your business through thoughtful review and progressive design. Working Spaces' teams are focused on forging a new path for your company and culture with modern architectural elements, integrated technologies, functional furnishings, and an eye for exceptional design. The successes of our favorite design projects speak for themselves; call Working Spaces today to get your vision off the ground in 2023!