Optimize Your Workspace with Furniture that Can Do it All!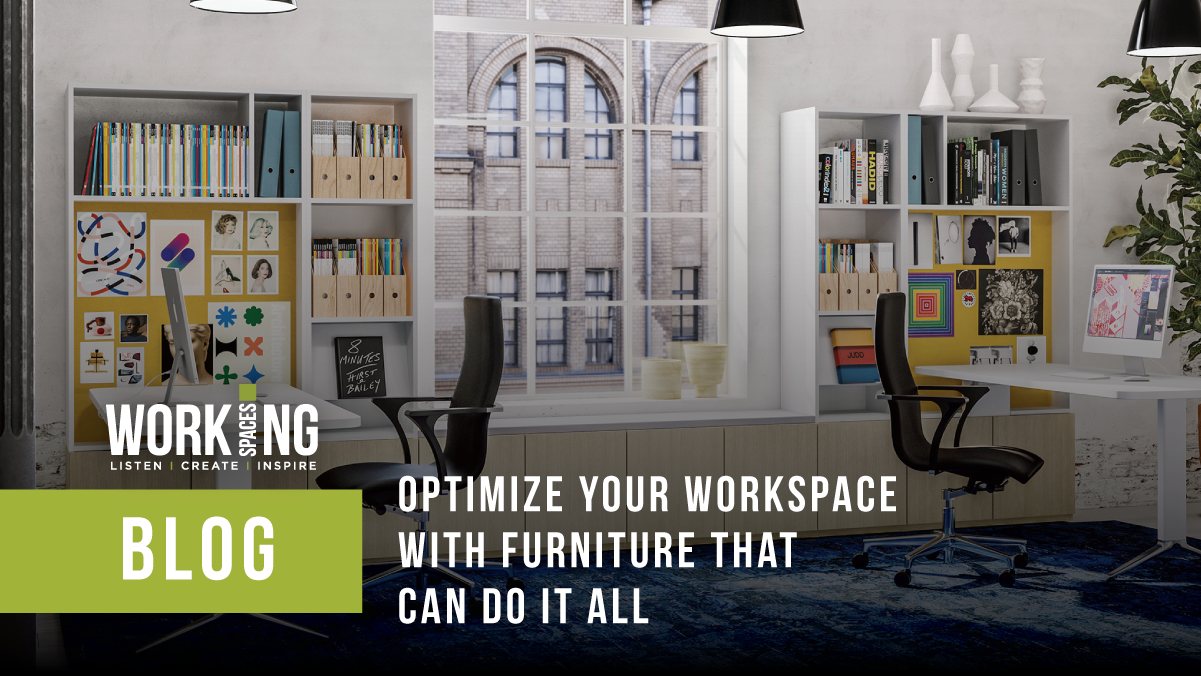 Working Spaces' design teams produce an industry-leading customer service experience for our clients, but that's only part of what makes us the name in cutting-edge interior office design. We've spent decades establishing incredible relationships with some of the world's top contemporary and commercial furniture brands around the world, because to us, relationships are everything. When it comes to creating the space that will propel your company forward, we've got the inside edge on top-of-the-line modern office furniture. These furniture lines are strong assets that not only optimize productivity and support your corporate culture but can boost your business's bottom line.
Get Creative with Kimball International's EverySpace
As an official Kimball International dealer, Working Spaces provides our clients access to one of the premier brands in contemporary office furniture today. With an eye for thoughtful design, their product solutions create the feeling of value and inclusion for staff, clients, and guests. Lines like EverySpace offer the adaptable combination of personal elements with functional solutions. From height-adjustable workstations in tight footprints to storage systems in large, open configurations, Kimball International puts the user at the center of its flexible and modular designs. As a 2021 Interior Design Best of the Year Awards Honoree, EverySpace is a Working Spaces favorite.
Have it Your Way with Halcon
Another impressive furniture line in Working Spaces' library is Halcon, specializing in beautiful designs for both office furniture and conference centers. Boasting simple yet versatile pieces at a variety of price points, lines like Lex and Oxer benching solutions offer simplicity and comfort while maintaining slim and professional silhouettes. The Motus line boasts advanced function with classic design for their smooth folding tables and carefully placed mobile accessories. Halcon's Halo Office is even more inviting. For both private and open office, Halo utilizes soft edges and impact-resistent features for an elevated and comfortable experience. Desk pieces are height-adjustable and paired with thoughtfully balanced storage components where size, space and organization can match any individual's needs. Our clients are sure to find the perfect balance of style and function with Halcon lines.
Exquisitely Elevated with Enwork
Our workspaces can say a lot about our potential, whether that's at an individual workspace or a group work setting. When it comes to team tables, conference tables, and accessory details around the office, Enwork is firmly established as a leader in the market for their variety, versatility, and style. From spacious conference set-ups with clean and simple lines like Poweredge and Value, to pieces like the architectural but polished Adventure Table, Enwork doesn't shy away from making a statement. Storage elements in the Equilibrium, Ambition, and Universal Landscape collections maximize space and ensure form and function meet modern style and elevated finishes.
Where a Chair is More than a Chair
Although Working Spaces provides our clients with access to the best commercial furniture brands in the world, we understand the necessity of people-centered, comprehensive, and thoughtful design as a foundation for your organization's growth. We offer combined joint-timelines, provide daily progress videos and communication, and employ unmatched commitment to creating solutions that drive and complement your company's culture. Trust Working Spaces as the perfect partner to build the environment you need for the most inspired employees and satisfied clients. Contact us today with your ideas!