Keeping Your Office Design on Trend with Glass Wall Systems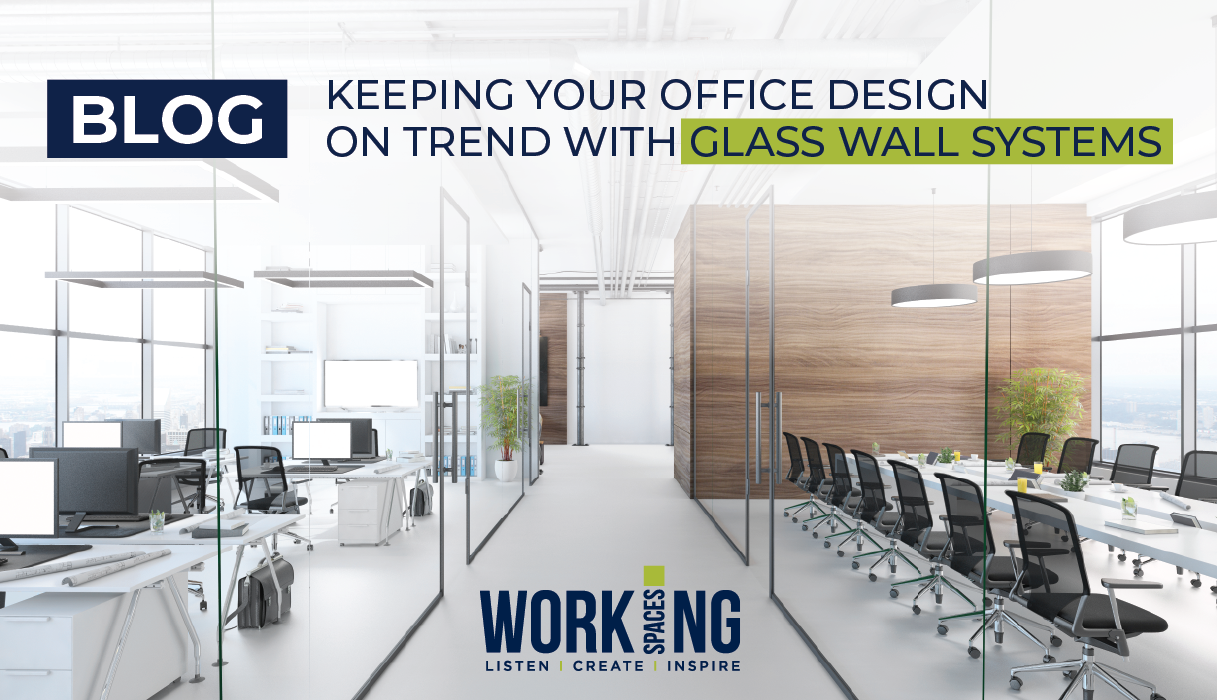 Having a clear vision for the future is imperative in plotting the trajectory of your organization, but this concept isn't just limited to operational strategy. Modern office design is increasingly reliant on the durability, functional versatility, and transparent aesthetic that interior glass wall systems offer to support staff success and an impeccable client experience. With so many ways to incorporate these sophisticated, adaptable elements into your workplace plans, it can be hard to determine where to start. The progressive designers at Working Spaces are ready to help find the most beneficial applications possible for your business.
Durable, Flexible, Environmental
As we emerge from the global health crises of the last few years, safety-focused, forward-thinking design must include durable materials that can withstand upgraded cleaning and sterilization techniques without risk of damage. Office glass doors and walls can handle high-heat and chemical cleansing without ever needing to be repainted or refinished, making them an ideal addition. Also, many organizations are still maneuvering the challenges of redesigning workspaces to meet the needs of evolving workforce roles, which require both flexibility and versatility in design and function. These interior glass wall systems can be dismantled and moved or reconfigured, which will reduce waste and make them a great option for the environmentally consciousness as well.
A Clear and Common Vision
Transparency in the workplace, both figuratively and literally, is more important than ever as businesses get more cost-conscious and wellness-centered, leading commercial spaces to get smaller and more personal. Cavernous, open-concept spaces are being downsized to offer employees a supportive blend of collaborative rooms and private workstations, which greatly improves productivity. Office glass doors and large windows maintain the aesthetic of spaciousness, support cultural values of accessibility and accountability among management and staff, and form the functionality of an open-design vision with acoustic soundproofing and privacy.
Bring the Outdoors In
The trend in recent years of incorporating biophilic elements into interior design isn't a fad, but an emerging staple of employee wellness and productivity. This human-centered design movement brings into focus employee satisfaction as a means of optimizing business outcomes. Designing with office glass windows and walls maximizes the flow of natural lighting from the outdoors through the workspace, which, according to a Future Workplace survey, is the number one most vitalizing office perk that contributes to the employee experience and the company's bottom line.
Elevate From the Inside Out
Perhaps the most recognizable benefit of utilizing glass wall systems in interior design plans is the modern, polished aesthetic that immediately elevates any space. Ultimately, investment in sophisticated design elements like these can create an overall net impact on a company's future growth, by lowering absenteeism and improving wellness, exceeding operational goals through improved engagement and productivity, and creating an inclusive and supportive environment that allows your best performers to thrive.
Working Spaces Creates Clarity in Design
Businessman and CEO Howard Schultz has said that "the currency of leadership is transparency," a concept perfectly mirrored by today's modern office design trends. Leading your organization into the most successful future possible involves harnessing the powerful benefits of design elements like glass wall systems to include biophilic support of staff wellness and productivity, and an authentic customer experience. The dedicated Architectural Products Team at Working Spaces are eager to help clarify and implement your vision, so call us today with your ideas to get started!