Here's How to Design the Ultimate Commercial Space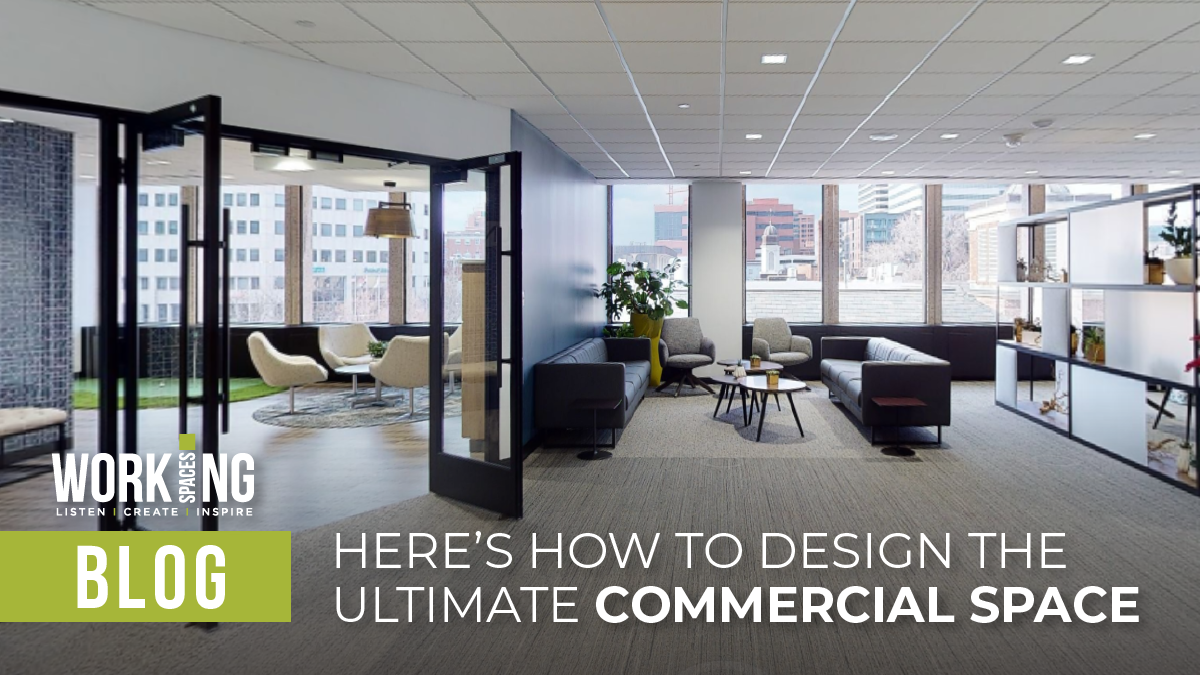 In today's evolving and ultra-competitive economy, the design of your commercial space can seemingly make or break the trajectory of your company's growth and success. Yet, surprisingly, the selection of strategic design elements like color, lighting, finishings and furnishings now have less to do with the form and function of creating a space and everything to do with creating a corporate and client experience. So, with a renewed focus on a people-centered approach to design, what are some essential tips for creating the ultimate commercial space for the ultimate commercial experience?
Collaborate with Trusted, Experienced Partners
When a redesign project holds the power to shape your organization's future, nothing tarnishes your experience and impression of the outcome faster than frustration and mistrust. At Working Spaces, we are committed to creating the best client experience possible, and this is accomplished with near-daily communication through discussions, process videos, and joint collective timelines. As a result, you will never have to wonder about the progress of your project, and our dedication to including you every step of the way will make you value the finished space for your staff and customers even more.
Begin with the End in Mind
Undertaking a build-out or renovation is an exciting endeavor. Still, before the first plans are drawn or samples are selected, it's essential to develop a clearly defined list of goals to design a genuinely functional commercial space. For example, is the company moving or expanding? Is a rebrand or relaunch in the works? Do you need inspiring spaces to attract top talent and increase their productivity? Do plans consider the customer journey? Working Spaces' interior designers will be essential partners, integrating your vision and ideas with their experience and industry knowledge to perfectly shape the final concepts to exceed your expectations.
Create with Culture
Elevated commercial office design is established based on integrated corporate culture and branding instead of applying the concepts as decorative accessories or afterthoughts. At Working Spaces, a tenet of our design process is an immersion into your culture and day-to-day operations so that we can best integrate your mission, values, and corporate spirit into the experience you're building for both staff and customers. Putting your people at the center of the design process creates engagement, innovation and excitement and naturally evolves into spaces that support collaboration, commitment, and productivity.
Invest in Wellbeing
Commercial office space design with an evident focus on employee wellbeing is a progressive investment with the capacity for infinite returns. Which supportive initiatives provide your people with the best employee experiences?
Biophilic elements like live plants, moving water, and large windows or

glass walls

for improved natural lighting can energize employees and support mental health.

Ergonomic furnishings like supportive chairs, furniture options like standing or walking desks, and flexible workstations support movement and physical health.

Comfortable and integrated social spaces can support the emotional wellbeing necessary for staff to connect with colleagues for creative collaboration.

Private spaces with integrated tech ensure that employees can dedicate time for formal and informal training; in this "knowledge economy," stimulated employees are strong and stable employees!
Designing a commercial space focused on wellness shows current employees that you value their contributions and can help you attract and retain a higher caliber of candidates when you're ready for growth. In addition, thoughtful design shows clients and customers that your dedication to excellence starts with support for your staff.
Build Your 'Wow' with Working Spaces
Prominent American graphic artist Milton Glaser said of the design, "There are three responses to a piece—Yes, No, and WOW! Wow, is the one to aim for." If your company's vision includes providing a Wow! experience representing your brand and culture, entrust your project to the dedicated professionals at Working Spaces. With a people-centered approach and innovation-based solutions that push the boundaries of creativity, we will deliver results that surpass your expectations on budget and on time. Call us today to get started on your ultimate commercial space!