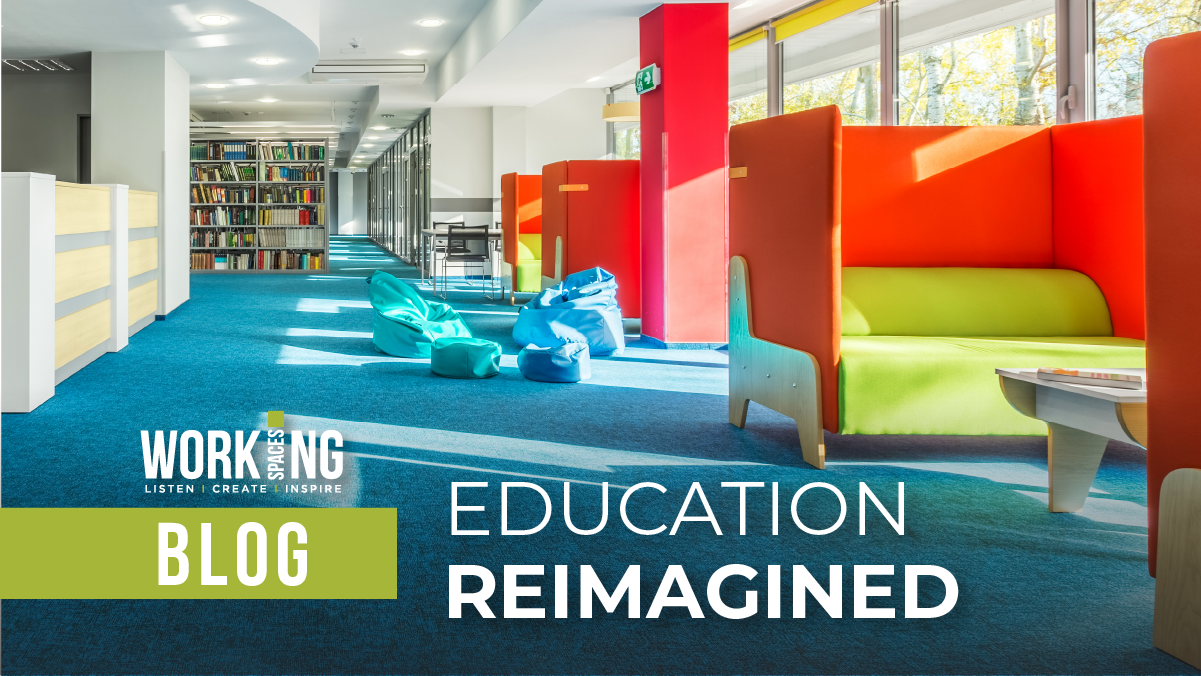 Education Reimagined
We are all familiar with the influence design has on productivity levels in the workplace. So, it should be no surprise that design elements are just as crucial to increasing engagement and productivity in the education industry. When designed with purpose and intention, campuses, buildings, social spaces, and classrooms have been proven to facilitate deeper learning, greater social connectivity and a more discernible connection between students and teachers. At Working Spaces, our drive for design is founded on a mission to provide the best experience we can for our children and future generations across the country. We believe one cannot effectively design a school building without understanding the multitude of ways a space can influence one's learning environment. We spoke with Working Spaces Chief Operating Officer, Tim Carroll, to explain how design elements play a role in the education industry and how we craft spaces that students, teachers, and parents alike will rejoice in.
Learning Methods
When it comes to designing the educational industry, the team at Working Spaces begins by understanding a school's pedagogy or method of teaching. Carroll explains, "We want to know what this school is doing to keep students engaged throughout the day. This understanding is paramount to determine what products they need and where the design needs to go," Carroll continues, "Without this core understanding, we're just selling furniture and that's not who we are." We are seeing a rise in active learning environments designed to engage students and give them greater involvement and control over their learning. Long gone are the days of 50-minute lectures with a whiteboard. Now, students have thought-provoking discussions and lesson plans that allow them to practice skills, solve problems, make decisions, propose solutions, and explain their methods to others through writing and discussion in a collaborative space. Of course, the design of a classroom plays a significant role in the active learning environment and its overall success.
Schools across the country can now utilize a variety of design elements focused on flexibility and functionality for students and teachers to move and change throughout the day. These designs offer a greater range of possibilities for lesson plans, group activities and more. Carroll paints a picture, "imagine a classroom where you can turn your chair and meet with your group at a table that is also a whiteboard, write your ideas down on that whiteboard and when you're done, flip the table over and use it to present what you just worked on to the class. These are the design elements crucial to active learning." This method of learning is not entirely new, as it parallels what we see in corporate America. "People now have choices over when and how they work. So, schools are giving kids a chance to choose how and where they learn in a way that will expand their connectivity and learning skills later in life."
Collaboration Stations
Social connection and collaboration are key elements in providing a well-rounded educational experience. We're seeing a change in how classrooms are designed to make it easier for students to break out into circles, small groups, and more rather than being seated in a row. "We have chairs that can easily move, rotate and shift for students to connect with one another in the classroom as well as lounge areas such as bean bags and couches to provide comfortability throughout the space," says Carroll. "Each design element works together, granting students more opportunity to work alongside one another while also providing a chance for teachers to easily modify their lesson plans or improvise based on what the students are eager to learn about that day."
Of course, this collaboration goes beyond the classroom. Common areas, libraries and tech rooms are evolving to include progressive and forward-thinking design elements where students can share in an open environment, providing flexibility to maximize student engagement and activity in various formats while also emphasizing comfort and function.
Thoughtful Design for K-12 and Beyond
While many of us are familiar with the emphasis placed on thoughtful design throughout college campuses and higher-ed learning, we are seeing an influx of schools of all levels looking for new ways to maximize learning ability and productivity through core design elements.
"10 years ago, this emphasis on design was more heavily seen in higher-ed schools or private institutions," says Carroll. "However, as we see the benefits of active learning and functional design, more and more schools are adopting these elements." Carroll continues, "The overall objective is simple. Create a space where people enjoy going and learning, and you'll get more people who want to be there. You may ask yourself, 'how can we attract these students?' The answer is easy – make your facilities more attractive."
Think, Create, Learn with Working Spaces
As an industry leader with over six markets throughout the country, Working Spaces can provide insight into the best practices for each location. Whether it be South Florida, the mountains of Denver, or the Midwest, we have experience working with various schools K-12 and beyond designed to increase engagement and facilitate learning across all ages. "There is a wealth of knowledge in our organization to understand what each industry needs for quality results," says Carroll. "That's what sets Working Spaces apart."