Working Spaces Connects with Their Community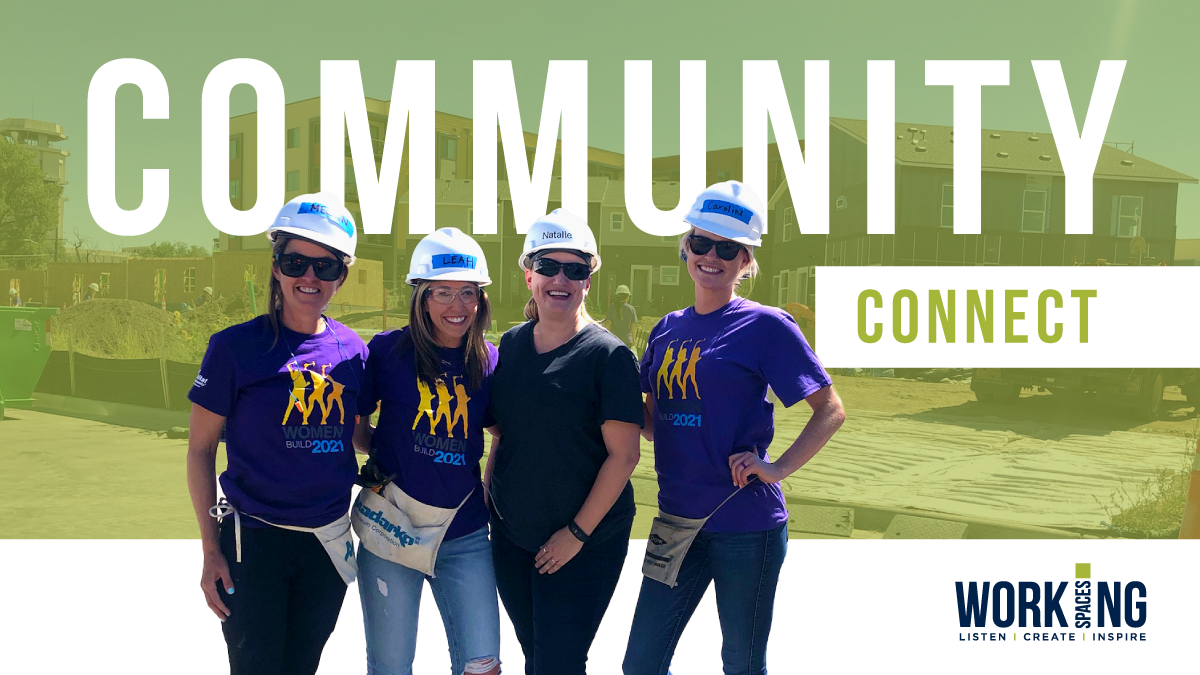 Digital anthropologist and best-selling author Brian Solis brilliantly captured the essence of Working Spaces' mission in stating, "Community is much more than belonging to something; it's about doing something together that makes belonging matter." When it comes to building a successful business, the space you design matters, not only in bringing together the brightest and best talents that can propel your vision forward but in communicating your mission to the clients and community you intend to serve and support. Working Spaces' community outreach efforts are a cornerstone of our annual operations because giving together inspires gratitude, creativity and dedication that extends to the world-class client experience we provide. Check out this year's outreach calendar!
The Donate & Make a Difference Blood Drive
Our St. Louis family is thrilled to partner with Impact Life by hosting the on-site Impact Life Bus in March, making it possible to connect blood donors with patients in need. Their mission of growing a compassionate community of hope by strengthening and serving others helps us all change the world together. Attendees can also register to donate bone marrow at the DKMS Booth!
Meow Wolf
The incredible work that artist collective Meow Wolf accomplishes in their local communities strikes a creative chord with Denver's Working Spaces team. So we'll be joining Kimball International for a private event at Convergence Station in April for food, drinks and a world-class art experience. Their dedication to transforming the world through imagination and exploration mirrors our own efforts to elevate creative and collaborative spaces in the companies we serve.
Bloom Event
April showers don't just bring May flowers, they deliver Kimball's new Bloom furnishings line! Our St. Louis and Kansas City teams are celebrating with a private showing that's sure to be a 'Bloomin' good time! Not only can attendees explore Kimball's new stunning pieces, but they can also arrange their very own masterpieces with flowers and planters supplied by the Working Spaces family.
CEU Summer Camp Project
At Working Spaces, we value growth and evolution because we strive to anticipate our clients' needs and help them stay ahead of trends and industry changes. This summer, Working Spaces' St. Louis family will be hosting a lively and informative program based on the latest trends and themes in the workplace design industry. We're excited to welcome thought leaders from Kimball International, Interwoven, 3form and more for this invitation-only event. These continuing education (CEU) presentations will provide engaging, thoughtful and timely insights on health-centric workplace design.
Annual Bike Ride Fundraiser to Fight Cancer
This fall, the St. Louis Working Spaces group will take to their bikes to join the fight against cancer with Pedal The Cause, which raises money for cancer research at Siteman Cancer Center and Siteman Kids at St. Louis Children's Hospital. This community event is near and dear to our hearts; our Stubby Strong team meets annually in memory of our beloved Greg Stubblefield.
Fall Festival with Working Spaces and Kimball International
This October, Working Spaces St. Louis is thrilled to host one of the season's most anticipated events, the Fall Festival! While adults peruse Kimball International's spooktacular new products and sip fall cocktails, kids will be busy decorating pumpkins, eating caramel apples, trick or treating and more. Costumes encouraged!
Rockin' The Runway
This November, in St. Louis, Working Spaces will be attending IIDA's Unravel vent, an annual bash for local designers to partner with product manufacturers and create couture fashion worthy of the runway! This creative celebration is inspiring, but it also gives community members an opportunity to strut their stylish stuff.
SHO Annual Golf Tournament to Support Local Families Fighting Cancer
This November, Working Spaces is proud to support the local St. Louis non-profit, the Scott Harris Oliphant Foundation. For nearly 20 years, SHO has helped families of cancer patients with the financial burden of care, and we're thrilled to partake in their annual golf tournament to help raise funds.
Annual Rocking a Stocking Toy Drive Event
Nothing gets the Working Spaces family in holiday spirits faster than a toy drive. Every year, we gather together to collect toys for the SSM Health Cardinal Glennon Children's Hospital in St. Louis and top it off with a stocking decorating competition to further benefit the organization.
Christmas Under Wraps
Giving back to the community is especially important during the holidays, and in Kansas City this December, the Working Spaces team collects toys for the Snowflake Shoppe. In this pop-up event, the parents of patients at Children's Mercy hospital can shop for holiday gifts for their children. Just as special to us is supplying the paper, ribbons and bows to make each gift a surprise—even more fun is our gift-wrapping contest with door prizes for the winners!
Working Spaces Works for Communities
Working Spaces strives to help businesses better serve their clients and communities; we understand that this transformative power needs to come from within the company's walls because we live and work by those tenets daily. Working Spaces co-founder Mary Handlan states, "Everybody in here cares. You get to bring value to someone else every day." Co-founder Nancy Apel agrees, "We genuinely care about our people and our clients the same way; there's a sense of community there." Trust Working Spaces to be a resource and guide to help match your culture with your space. Call us to get started today!