The Year in Review: A Look Back to Launch Ahead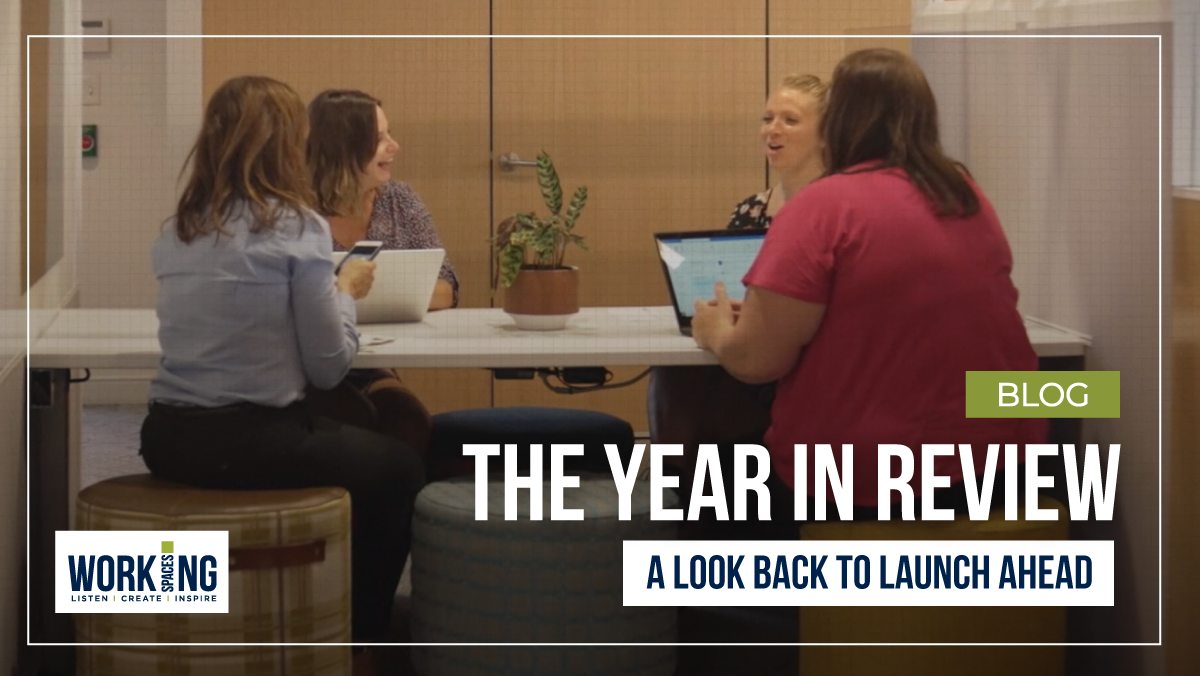 Despite an unpredictable 2021, it's hindsight that can help us realize our resilience and elevate a vision for the future. While the rounding of the decade felt full of purpose, promise, and exponential growth, the global community was instead launched into an era of unprecedented challenge, one which many organizations and companies were still recovering from this year. With an objective eye to the past however, a silver lining to recognize is the renewal of the qualities of reinvention and tenacity, and no one appreciates the nuance and distinction of this perspective more than the team at Working Spaces. 2021 has seen us celebrate continued growth by helping other businesses and organizations thrive, and we look forward to an even more stellar 2022. Here's a look back at the year and what's to come!
Development Despite Disruption
Humans are creatures of habit, and we all want to get back to a state of "normal" that helps to regulate our experiences. Perhaps the greatest hindrance to standard operations in 2021 has been the evolution of workforce complications and global supply chain disruptions. The team at Working Spaces has helped businesses weather these challenges and rise above them with two tenets of our mission and philosophy:
Company Culture
Since a company is only as good as its people, we understand that building and maintaining a quality workforce that successfully promotes your products and services depends on a strong and thriving company culture. While many businesses struggled with turnover, burnout, and compromised morale this year, we've helped others recognize the value of using strategic design elements to draw in and support the best and brightest candidates and to motivate a shared vision of success.
Vital Versatility
Ensuring smooth business operation today is much more challenging than ever before, and a key to ensuring your company's relevance and resilience is to roll with and anticipate the tides of change. At Working Spaces, we recognize that versatility is vital, not only in innovation in delivering products and services, but in the very structure of your company's design and furnishings. In 2021 we've celebrated great success in helping companies utilize architectural solutions like modular and alternative wall construction from maars and Muraflex that offer myriad options to meet the needs of your evolving organization.
Grateful for Growth
Despite the challenges of the last couple years, maintaining the integrity of our own company culture and our client-first approach has afforded us continued growth and the opportunity to expand into two new and exciting markets. We are thrilled to have established satellite offices in the burgeoning metropoles of Nashville and Orlando; moving closer to the East Coast allows us to serve a greater number of communities of forward-thinking organizations with industry-defining creative and operational services and architectural solutions.
A Future So Bright
While some companies might be satisfied with resting on the laurels of past endeavors, the dynamic group at Working Spaces views our shared accomplishments as a platform from which to leap beyond the status quo. We're moving into an exciting future that not only promises strategic solutions to ongoing challenges, but that delivers a world-class client experience that is immersive and innovative, truly inclusive, and on the cutting edge of design development. We are excited to be elevating the industry standard for creating spaces that inspire productivity, creativity, and connectivity, and look forward to guiding your organization to its brightest possible future. Contact us today to discuss your needs and to learn about how we will meet and exceed them.