The Hometown Experience All Started in St. Louis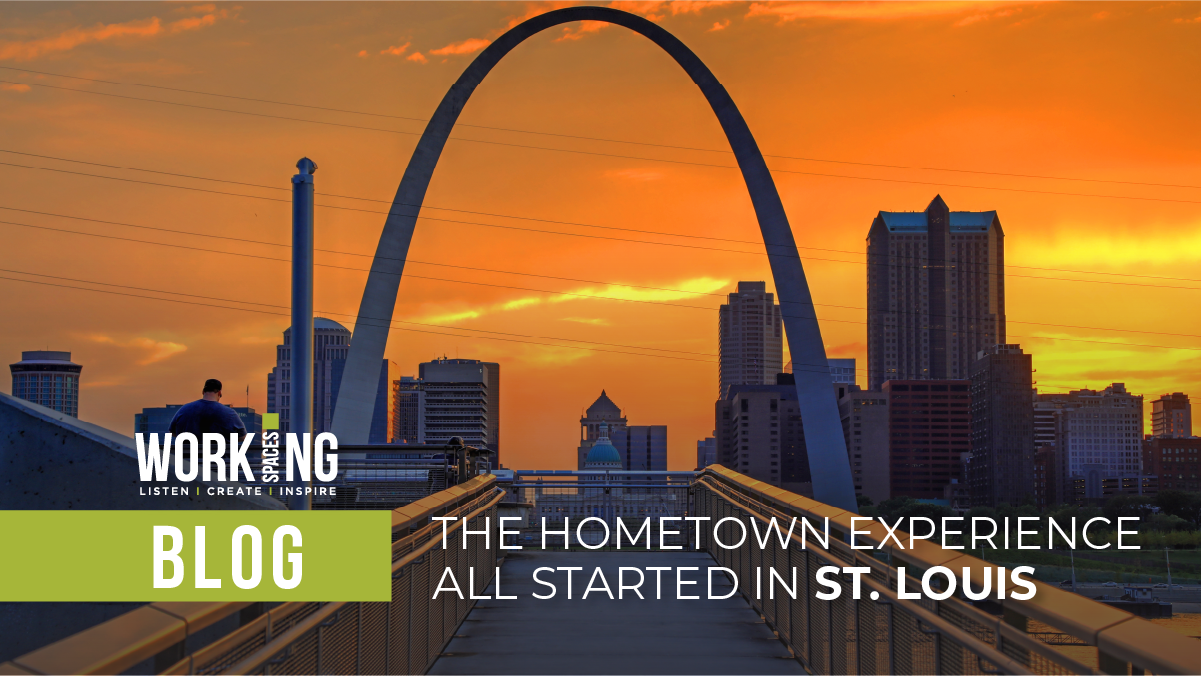 Since its founding over twenty years ago, Working Spaces' mission has been to provide clients with an outstanding world-class experience. Founded on communication, connectivity, and local culture – our team comprises those who know their city best. While we have expanded our mission to each of our markets throughout Columbia, Denver, Kansas City, Nashville and Orlando, the hometown experience all began in St. Louis.
Design Elements of St. Louis
Katie Moeser, a Senior Designer at Working Spaces, moved to St. Louis over 25 years ago, looking to experience all the big city had to offer. "The natural beauty of St. Louis is the chance to experience the metropolitan and technological advances of a big city without losing the small-town feel," explains Moeser. "Everyone knows everyone, and this culture is prevalent in our work for our clients. We get to know them and work diligently to craft a space that embraces both company and local culture for an incredible result."
Balance
According to Moeser, one of the key elements of St. Louis design is balance. "We've experienced rapid growth over the years, from technological expansion to an increase of corporate clients but we never lose the small-town feel." Moeser continues, "So, we work to find a balance between implementing these advancements in our client's space while also helping them to remember where they are. This city is grounding, so it's important to find a balance between offering innovation while also providing design elements focused on comfort and familiarity." There is no one-size-fits all approach when it comes to this sense of balance. According to Moeser, it can be seen in many ways, from the color of the fabric to the shape of light fixtures or high-tech spaces placed next to traditional wooden desks.
Versatility
In the ever-changing world of office spaces, it is no surprise that one of the key elements of design is offering versatility. "Creating multi-functional spaces that can adapt to any situation is essential," explains Moeser. Versatile office designs help adapt to the company's individual needs. These pieces are moveable and flexible, whether it be sharing a space with another co-worker or thirty people. They can transition from small intimate work sessions to a large capacity togetherness. "Having a space that can move with this ebb and flow is important and workplaces are recognizing that more and more." Moeser continues, explaining that it is just as essential to remain versatile when designing the space itself. "Designers must remember that not everyone is looking for the same thing – we have to be agile enough to move from one concept to another and provide our clients with the solution that best fits their space and provide a space for them to do their best work." The Working Spaces team works diligently to stay at the forefront of design by analyzing the city's local culture and providing unique spaces that function well and can quickly adapt to the client's ever-changing needs.
Collaboration
As we have seen in recent years, the need for collaboration is more vital than ever before. "As a society, we are meant to be together to engage and connect," says Moeser. "While the need for collaboration is seen throughout the country, it became quite essential in keeping our St. Louis small-town community alive and well." For Moeser, understanding this connection and drive for collaboration is essential in creating a space that makes people want to come back to the office and, most importantly, continue coming to the office. "Collaboration stations are at the forefront of our designs," says Moeser. "They provide new channels for communication while also bringing team members together to problem-solve and learn from one another in a new way."
Culture
At the end of the day, the hometown experience is rooted in culture – understanding how local culture influences design elements and how to weave those pieces into a unique working space that highlights a company's individual culture as well. According to Moeser, several clients in St. Louis base their space and environment or naming conventions on city elements to help their culture shine through. "I have seen spaces named after historical points in town like the arch or the station, as well as an uptick in re-occupying certain spaces of the city that offer community engagement and involvement. In addition, clients may use Cardinals references, historical references, or just want an office with a view of the city." Moeser continues, "One of the beautiful things about St. Louis is that we embrace the city's history and use that understanding to move into a new space that embraces the past and future. For a city at the forefront of design and technology, it's lovely to see companies keep historical names and elements of St. Louis as part of their space." After all, honoring and recognizing those elements is what makes a true hometown experience.
Connect with Working Spaces
Working Spaces began in St. Louis and while our company continues to grow, the foundation of our mission remains the same. Now, over 20 years later, the drive to experience that culture is stronger than ever and our understanding helps set our company apart. So, if you are ready to design your dream commercial space emphasizing local culture, choose the company that knows the city best. Choose Working Spaces.