Choose Local When You Choose Working Spaces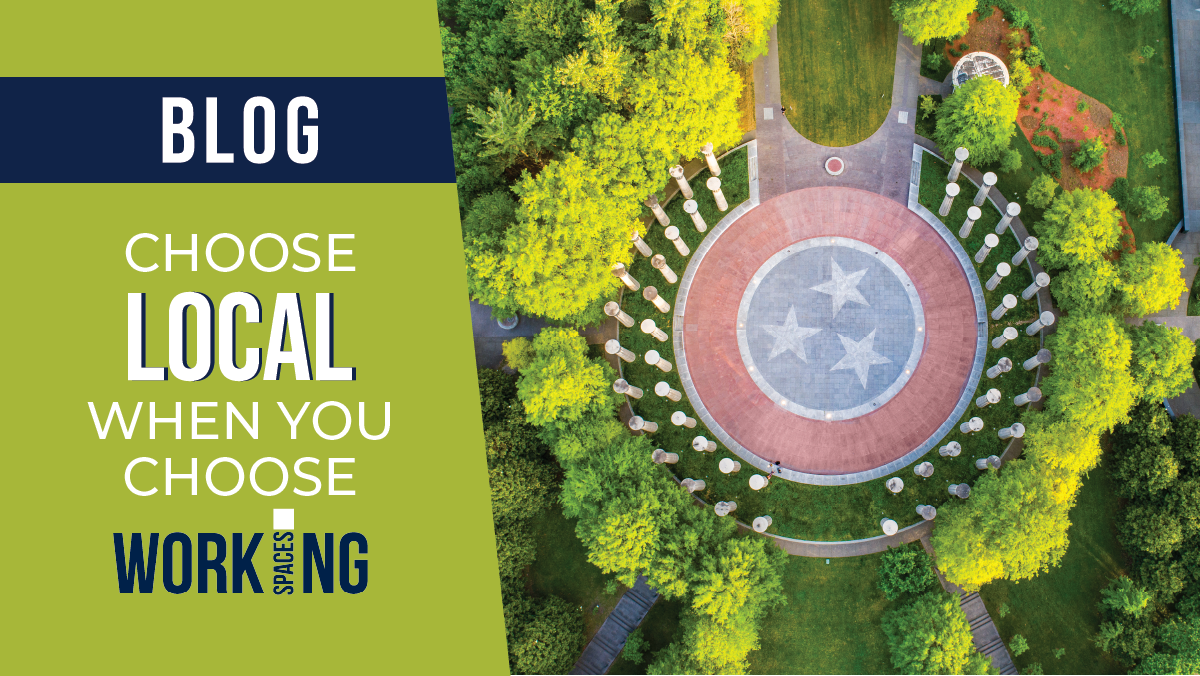 There are many reasons to choose local when it comes to business. From supporting the local economy to connecting with the community, facilitating local culture and being a part of a city's growth. So, how does Working Spaces help?
Working Spaces is all about the experience. We provide the perfect blend of a world-class client experience and hometown experience in all our markets, from Denver and St. Louis to Orlando and Nashville, to help our clients gain the most out of their space. Our team is comprised of those with deep roots in the community, providing a unique ability to create spaces that weave together each client's corporate culture with the fabric and culture of the community, something only a local business can do.
Why Choose Local?
According to Working Spaces' Chief Operations Officer, Tim Carroll, our local culture and hometown experience are prevalent throughout all of our markets, but are seen best through our Nashville operations. "People are coming to Nashville now more than ever before," says Carroll, a Nashville Native himself. "When they arrive, they want to work with someone who can reflect the culture and be an extension of the community that they're in. But if you're not from here, you can't provide that experience to your client. Here at Working Spaces, our local expertise and ties to the community enable us to provide the authentic Nashville that others can't."
For the Culture
To infuse a business with the local culture is to make it look and feel like the community that it's in. So, why not work with a local company that's been there long enough to know what that is? In all of our markets, the Working Spaces team has deep ties to the community, so emphasizing local culture is not only easy but well-understood. "When it comes to Nashville, people are moving here to be somewhere cool, hip and most importantly, to become a part of the local culture," explains Carroll. Nashville has gained recognition in recent years for its inexplicable growth. But what truly sets the city apart from the other cities in America is its connection to culture, the music and arts culture, business culture, sports culture, historic culture and more.
For your business to accurately reflect all that Nashville has to offer, you must first be familiar. "Back in the day, Nashville was just this cool place where everybody could connect with one another – even though we've seen growth, this has remained the same," explains Carroll. "Understanding that dynamic is key to understanding our culture." This sentiment is true for community members and businesses alike. After all, only locals know where the locals go. 
For the Connection
For many years, Nashville was known as the largest small town in America. So, it's no secret that a tight-knit community would want to work alongside fellow locals. But working with a local business isn't only beneficial to those with a long-time connection to the city, it's helpful to those new in town as well. Not only does working with a local business help facilitate a deeper connection to the surrounding culture that they are now a part of, but it also allows for a deeper connection between client and business. This connection is essential for building client relationships and making a statement and the benefits can be seen throughout each of our markets across the nation. 
 A quality business that relates to the community creates a sense of belonging, attracting like-minded individuals with similar ideals and goals for the place they share. You must first understand the people to create a space that reflects the nature of a town. By working with a local business to create a coworking space that reflects the love of community, you're helping bring people together – you're helping to bring them home.  
For the Vision
The key to having a clear vision for the future of a community is to know what differentiates one city from other local hubs. So, if you're talking about Nashville, the first thing to note is that Nashville is its own; it's not Boston, it's not New York, it's not Chicago, it's Nashville. This city's progression happens on its own terms, and once you know where that community has been, it's easy to see the vision for where it's headed. So, when you come to town and want your office space to reflect an accurate interpretation of the city, it's essential to be clear on what that is. For Working Spaces, understanding the past helps us create a clear vision for the future of your space and ensure that it will work cohesively with the community over time.
 "If you haven't seen Nashville the way it was all those years ago, it's hard to wrap your brain around the direction it can go," says Carroll. "I've had clients come to me and ask for their space to reflect 'Old Nashville,' and of course, that description can change dramatically depending on what you know about this city. At the same time, I've had clients tell me they want their space to reflect the sensation of walking through Radnor Lake State Park. Well, if you're not from Nashville, then you don't even know what Radnor Lake is. It's these subtleties that help set Working Spaces apart in all of our markets and, more importantly, help our clients stand apart from their competition."
Let Working Spaces Bring You Home
At Working Spaces, experience is at the heart of everything we do. We design each space to blend company culture with the culture of the city for a truly local experience that ensures your space stands out from the crowd. So, choose local when you choose Working Spaces and contact us today!